Instant Pot Vegetable Biryani – A mouth-watering, bold, flavorful, universally loved Indian One Pot Rice Dish which is packed with vegetables and flavorsome spices. Biryanis are one of the most royal and grand rice-based dish from Indian Cuisine.
Do you crave Veg Biryani every now n then?
Do you simply visit an Indian restaurant just to enjoy Vegetable Biryani?
Well, not anymore. You can make Vegetable Biryani in a pressure cooker / Instant Pot in no time.
First of all, Let's learn what is Biryani?
According to Wiki, Biryani is a Hindustani word derived from the Persian language, which was used as an official language in different parts of medieval India by various Islamic dynasties. One theory is that it originates from birinj, the Persian word for rice. Another is that it derives from biryan or beriyan, which is to fry or to roast.
There are so many varieties of biryani like Paneer Biryani, Dum Biryani, Hyderabadi Biryani, Culcutta Biryani, Malabar Biryani, Bombay Biryani, Bhatkali Biryani etc.
Each community and region of India has its own traditional style of making Biryani.
This Instant Pot Vegetable Biryani is one of the delicious variety of Biryani and it tastes awesome.
An authentic veg biryani recipe is always slow cooked on dum.
Now, what is Dum Cooking or Dum pukht?
Dum Pukht or Dum cooking is a technique of cooking in steam by not allowing the steam to escape. The food is kept in a sealed container, Usually in Handi (Clay pots) which are sealed tightly with Whole Wheat flour dough. This doesn't allow the steam to pass. Dum Pukht literally means choking off the steam.
Because of the dum cooking method Nutrients are not lost in this process and it gets cooked in its own steam. Its slow cooking infuses the flavors and its aromas are wonderful.
Difference between Pulao and Biryani.
Biryani comprises two layers of rice with a layer of Vegetables in the middle and Pulao is not layered. Biryani is a primary dish in a meal, whereas the pulao is usually a secondary accompaniment to a larger meal.
Pulao is a single Pot dish while In Biryani, rice and vegetables are cooked separately before being layered and cooked together.
Pulao has very simple and lighter spices while Biryani has more complex and stronger spices.
This Instant Pot Vegetable Biryani is prepared like pulao, without cooking the rice separately and layering the veggies, but with stronger spices and ingredients.
Vegetable Biryani is normally prepared for special occasions because cooking a biryani takes up some time. And of course, It is worth it. But sometimes, especially on weeknights, you don't get time to cook biryani traditional way.
But now thanks to Instant Pot. It's pretty simple enough to make on a busy weeknight in a blink of eyes.
It's easy and best Biryani recipe so this dish works for any parties too.
This is like a super easy recipe to make biryani without compromising on taste. It's just one pot, a few minutes of prep work and you will have scrumptious biryani ready in no time!
What are the ingredients used in Instant Pot Vegetable Biryani?
I have used Store bought Biryani Masala, Some basic spices like Red chili powder, Coriander powder, turmeric powder, and salt, Saffron, Curd, Lots of cilantro and mint, Fried Onions (Birista), garlic, ginger-chili paste, Lots of vegetables, Curd, and good quality rice.
What type of rice One should use for Biryani?
A good Biryani depends a lot on the type of rice you use.
When you're making any Biryani, you should use good Biryani Rice. Basmati Rice is perfect for making Veg Biryani recipe.
I highly recommend using Dawaat Basmati Rice (Not a sponsored post. It is my personal favorite) in this Biryani. I love its long grains and according to me, no other brand basmati rice compares to it. Its Aroma is wonderful too. You can easily find this rice in an Indian grocery store or on Amazon.
On top of Rice, another must ingredient is fried onions. I have shared A detailed recipe post for How to Make fried Onions for Biryani Here.
What to serve with Biryani?
Biryani tastes best with Salan and Raita.
This Instant Pot Vegetable Biryani is one of the best one pot meal which is enjoyed by your entire family.
It's gluten-free and can be made vegan by using dairy-free unsweetened yogurt.
All I can say is that each bite of this Veg biryani recipe was heavenly.
I have made this Biryani in a traditional pressure cooker too. You can find this recipe Here.
Do give this vegetable biryani recipe in pressure cooker / Instant Pot this weekend, I promise you won't be disappointed.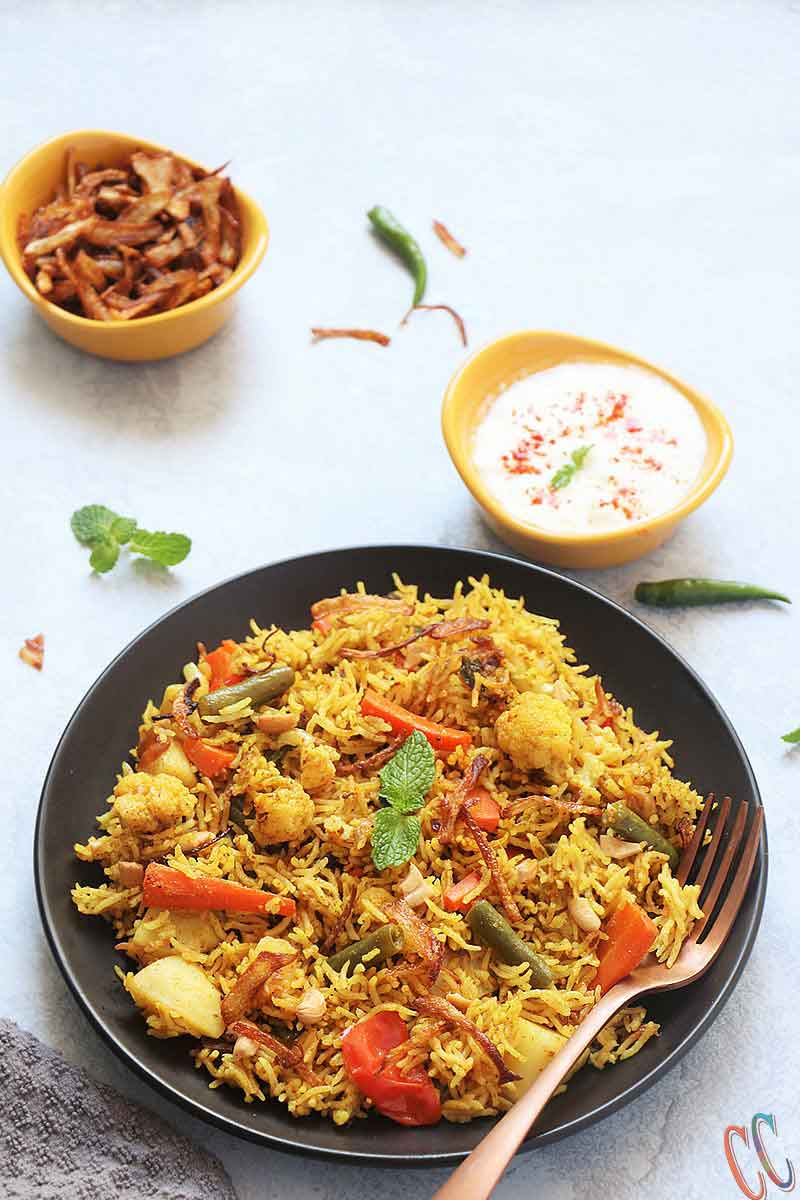 Also Check out my other Vegetarian / Vegan Indian recipes like –
Print
Instant Pot Vegetable Biryani
Instant Pot Vegetable Biryani - A mouth-watering, bold, flavorful, universally loved Indian One Pot Rice Dish which is packed with vegetables and flavorsome spices. Biryanis are one of the most royal and grand rice-based dish from Indian Cuisine.
Ingredients
1 ½

cup

- Basmati rice

Soaked in 3 cups of water for 30 minutes, drain the water after 30 minutes

1

cup

- Curd / yogurt

Use dairy free unsweetened yogurt if making Biryani vegan

2

tablespoon

- oil

2

teaspoon

- cumin seeds

1

teaspoon

- grated garlic

1

teaspoon

- Ginger paste

you may used Grated ginger too

1

teaspoon

- Chili paste

You may use finely chopped chilies too

1 ½

cup

- Chopped Potatoes

1

cup

- Bell peppers

I used red and green

¾

cup

- Chopped Green beans

1

cup

- Chopped carrots

1

cup

- Cauliflower florets

1

cup

- fried onions

¾

cup

- mint leaves

½

cup

- chopped cilantro

¼

teaspoon

- Turmeric powder

½

tablespoon

- Red chili powder

½

tablespoon

-Coriander powder

2 ½

tablespoon

Biryani masala

Salt to taste

⅛

teaspoon

- Saffron

optional (Soaked in 1 tablespoon of water for 15 minutes)

Some cashew nuts for garnishing

See the notes

1

cup

- Water
Instructions
Soak Basmati rice for 30 minutes. (very important)

Turn on the saute button. Heat oil in an IP.

Add Cumin seeds, ginger, garlic and chili paste.

Saute for few seconds.

Now add all the vegetables. Saute for 2 to 3 minutes.

Add Biryani masala, chili powder, coriander powder, turmeric powder, and salt. Mix well.

Now add soaked and drained Basmati rice,

Birista/fried onions

, Mint, Cilantro, yogurt, Saffron water, and water.

Mix all very well.

Cover the instant pot.

Turn off the IP from saute mode.

10. Press the manual or pressure cook button. Cook on high pressure for 5 minutes with pressure valve in the sealing position.

11. Let the pressure release naturally for 5 minutes and then release the remaining pressure manually.

12. Open the pot and fluff the rice with a fork.
Video
Notes
Use good quality Basmati Rice. I prefer Dawaat Basmati Rice.
If you are making this vegan, Use dairy-free yogurt. Or you can skip the yogurt and use 1 cup more water.
Use any vegetables of your choice.
Make sure you cut all the veggies into large pieces and then use in the recipe.
You may also add paneer or tofu to this recipe.
My personal favorite biryani masala is Shan Biryani Masala.
Saffron brings out a very nice aroma and makes biryani royal. If you don't have on hand you can skip it too.
The spice level of this Biryani recipe is 3 out of 5. You can adjust the spices accordingly.
I have used homemade fried onions / Birista for my biryani.
You may use store bought too. Or you may just saute 1 ½ cup onions with Ginger, garlic and chili for about 3 to 4 minutes or until golden brown in color.
I like to add cashew on top. But you may add while cooking the biryani. Skip cashew if making nut free.
Nutrition
Serving:
1
person
|
Calories:
422
kcal
|
Carbohydrates:
64
g
|
Protein:
8
g
|
Fat:
14
g
|
Saturated Fat:
4
g
|
Cholesterol:
6
mg
|
Sodium:
169
mg
|
Potassium:
566
mg
|
Fiber:
5
g
|
Sugar:
6
g
|
Vitamin A:
6025
IU
|
Vitamin C:
57.3
mg
|
Calcium:
127
mg
|
Iron:
2.2
mg
Pin It For Later –