This shop has been compensated by Collective Bias, Inc. and The Coca-Cola Company. All opinions are mine alone. #MyHonestTea #CollectiveBias
3 ingredient no bake energy bar – Loaded with natural Ingredients, Best, Healthiest, Paleo, Vegan, Organic, Gluten-free, Easy, simple, raw Date Energy Bar Recipe. They are very addicting and perfect craving busters.
Hello beautiful people!! How are you all?
Do you guys know, September is an organic month?
It is also called Organic Food Celebration month.
Organic means that the products have no pesticides are more environmentally friendly. Organic products make difference to your own well being and food taste even better.
It's been one and half month since school started. As an active mom, I am constantly running from the school drop-off and pick-up to activities to groceries and whatnot, all the thing. I sometimes don't have the energy to keep up with it all and need to make sure I'm keeping myself fresh.
I always look for healthy and organic snacking ideas and drink to keep myself stay energized.
Honest Tea is my favorite To Go drink on the go Or after a workout or any time of the day. This product is Fair Trade and Organic. The brand is about being authentic and genuine.
My favorite flavor is Peach tea. It is just tad sweet, brewed with real tea leaves, just like you'd make at home and that's why you can really taste the crisp freshness in every sip.
I think this is something to celebrate for this Organic month.
I purchased 3 flavors, Pomegranate blue flavored herbal tea, Honey green tea and my favorite Peach Tea, Honest Tea at Fry's where I found a good deal, special pricing for PET Honest Tea bottles running from 9/5/18-10/24/18: 4 for $5 perfect for stocking up for a month.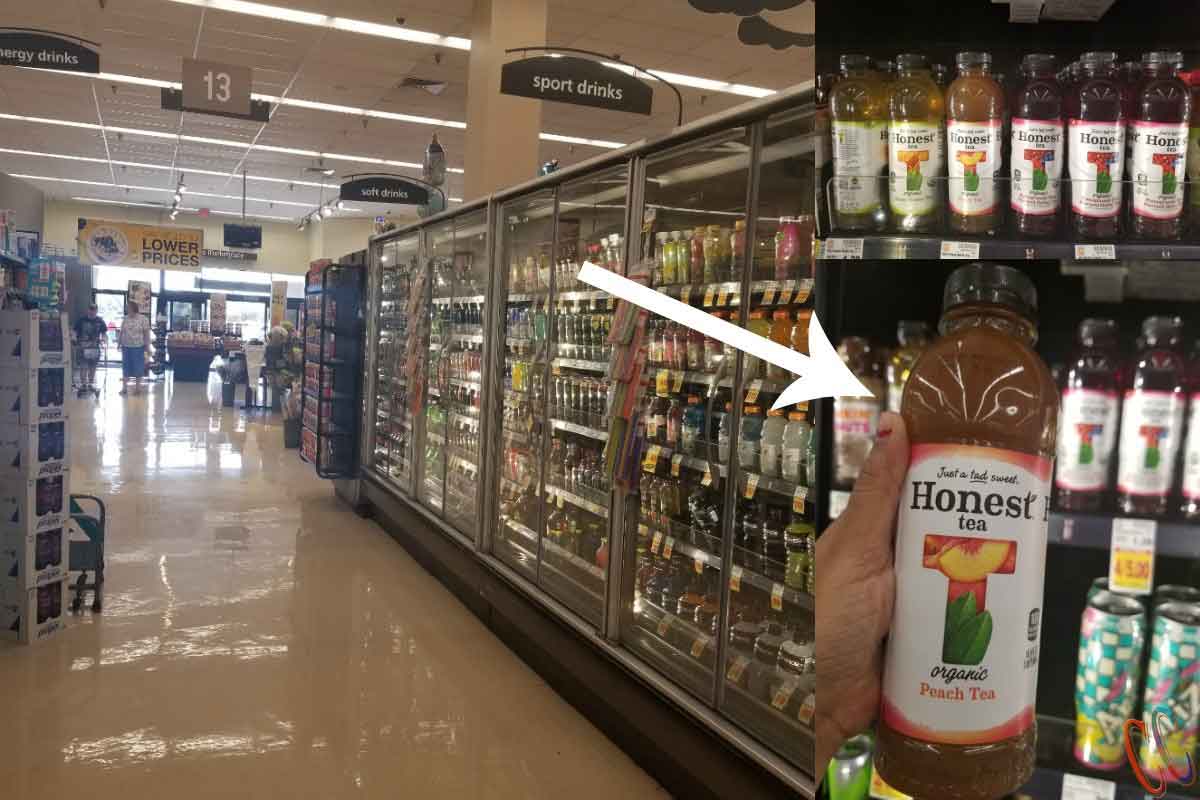 Please click here to find your Kroger or Kroger banner store near you to take of this limited time deal.
Many times when being a mom with tons of responsibilities pushes me down, a sip of Honest Tea revitalizes me and helps me stay active.
Along with sip of Honest tea, I prefer to have energy-boosting snacks like this 3 ingredient no bake energy bar.
3 ingredient energy bar recipe is simple, super easy to make and good for you and your family.
For this gluten-free energy bar recipe, you will need only 3 ingredients, a food processor and 5 minutes.
These homemade energy bars are so so simple I don't know if I can even call it a recipe!! 🙂

How to make No bake healthy Energy Bars recipe?
To make these vegan energy bars recipe, you will need Dates, cranberries and Pistachios. Blend, press, set, slice, eat and Enjoy!! No added sugar is a bonus here. 🙂
Isn't it amazing how the simplest ingredients and a few minutes can transform into the most delicious of healthy treats!! You can't beat how easy, healthy and simple they are. They also store great.
This recipe is very adaptive. You can add any nuts like Peanuts, almonds, cashews, dried apricots, raisins, figs, dried apples etc. to make Raw energy bars. I have shared Date and Nut bars recipe here with so many dry fruits.
I always mix and match the ingredients. But I keep Dates as the main ingredient every time for their texture and sweet caramel flavor.
Benefits of Dates
Dates are a good source of vitamins, minerals, fiber, calcium, potassium and much more. Eating them every day helps to meet our daily requirements of vital nutrients. It also works as the natural sweetener in these No-bake bars.
Dates are also a great food to include in your kids day.
Dates also have enough moisture to bind everything together, so you don't need to add any liquid to combine other 2 ingredients.
This 3 ingredient no bake energy bar recipe is perfect as pre or post workout snack.
I would say – A great homemade snack for those who look for better options and bonus is these homemade energy bars are kids friendly. 3 ingredient no bake energy bar is a perfect lunch-box treat.
My son loves this No bake Paleo energy bar recipe. He eats every day in the morning, especially during winter. For him, it's energy power bars. He always says "Mom these bars gives me lots of energy in school, especially in P.E class". 🙂
These are also good energy bars for diabetics as it doesn't contain extra added sugar. If you are diabetic and craving for sugar or sweet treat, you may pick these Energy bars over other sweet which are made of added sugar. As I said, These energy bars are Perfect craving busters.
Print
3 ingredient no bake energy bar
3 ingredients no-bake energy bar - Loaded with natural Ingredients, Best, Healthiest, Paleo, Vegan, Organic, Gluten-free, Easy, simple, raw Date Energy Bar Recipe. They are very addicting and perfect craving busters.
Ingredients
1

cup

- Dried Cranberries

1

cup

- Pistachios

1

cup

- Date
Instructions
Chop dates into small pieces.

Take all three ingredients in a food processor.

Pulse a few times just to mix everything up.

Scrape the edges of the bowl.

Process continuously until a ball is formed, around 3 to 4 minutes.

On a piece of wax paper, roll the mixture out with your hands or rolling pin into a square shape, around 8x8 inch.

Wrap and chill for at least an hour.

Cut it into 10 equal pieces.

3 ingredient no-bake energy bars are ready.

Store the bars in airtight container in the refrigerator for up to 2 weeks, or in the freezer for up to 4 months.
Notes
The bars can be eaten straight from the refrigerator or freezer.
This energy bar is chewy, not crispy.
You can make Balls or may cut it into small square pieces.
Nutrition
Calories:
147
kcal
|
Carbohydrates:
24
g
|
Protein:
2
g
|
Fat:
5
g
|
Potassium:
227
mg
|
Fiber:
3
g
|
Sugar:
18
g
|
Vitamin A:
50
IU
|
Vitamin C:
0.7
mg
|
Calcium:
20
mg
|
Iron:
0.7
mg
Pin It For Later –